See also related PDF for your reference:
http://radiationrefuge.com/images/page_imgs/RF Research from 2012 - onwards.pdf

To autism-adhd.org.au.
Something you may want to take into consideration. A friendly suggestion from from Steve Weller.

To whom it may concern,
I recently perused your website and was interested to find that there is one environmental factor (manmade) that appears to be overlooked/ignored in your websites list of potential ADHD/Autism contributors and that relates to radiofrequency (RF) emissions from cell towers, WiFi, mobile phones, smart meters, game console and other wireless sources. Food additives, pesticides are not new and have been around for many decades – although they are undoubtable a contributor to these neurological issues, they may not be the primary culprit. I have been reviewing research in this area for the last 4 years. It has been known for at least the last 50 years from military research that low level exposures to manmade radio frequency signals (most particularly those that are pulsed) can cause neurological effects and changes. I would recommend that you take a look at these documents that are publically available:

1) US NAVAL MEDICAL RESEARCH INSTITUTE - BIBLIOGRAPHY OF REPORTED BIOLOGICAL PHENOMENA ('EFFECTS') AND CLINICAL MANIFESTATIONS ATTRIBUTED TO MICROWAVE AND RADIO-FREQUENCY RADIATION – a review over 2300 papers (1971)

2) US DEFENSE INTELLIGENCE AGENCY (DIA) REPORT BIOLOGICAL EFFECTS OF ELECTROMAGNETIC RADIATION (RADIOWAVES AND MICROWAVES) EURASIAN COMMUNIST COUNTRIES (1976)

3) NASA STUDY - ELECTROMAGNETIC FIELD INTERACTIONS WITH THE HUMAN BODY: OBSERVED EFFECTS AND THEORIES (1981)

4) US AIR FORCE RADIOFREQUENCY MICROWAVE RADIATION BIOLOGICAL EFFECTS AND SAFETY STANDARDS: A REVIEW (1994)

Many of these studies are quite old but were performed at a time when commercialization opportunities were not fully realized and so corporate profits and economic influences were not considered in the equation.

RF exposure has also been shown in research to open the blood brain barrier and so may be working concomitantly with these other toxicants that you have mentioned. On your website you have a graph showing the rising incidence of these neurological disorders.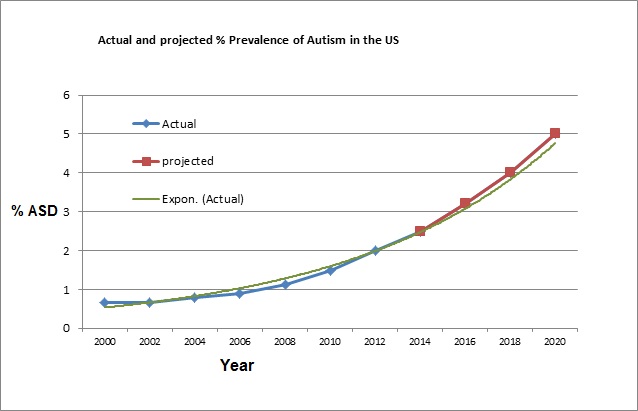 I have another one taken from the CDC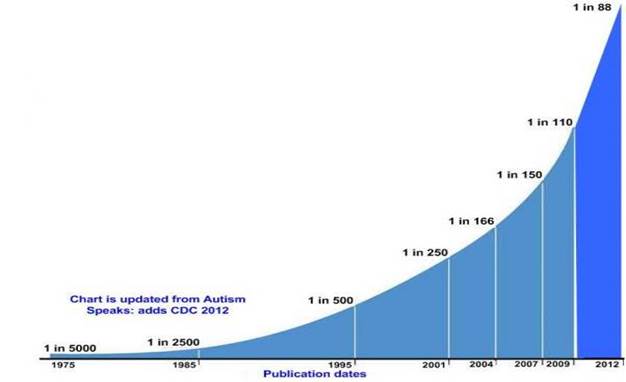 Then there are the graphs immediately below which can also be mapped to an rising increases of RF in our environment as more and more towers are deployed to support mobile phone usage. So, is this simply a coincidence or a possible correlation between rising levels of electromagnetic radiation and rising levels of neurological issues such as ADHD and autism? Dementia/Alzheimer's is also increasing and is happening at younger and younger ages. Again coincidence or correlation?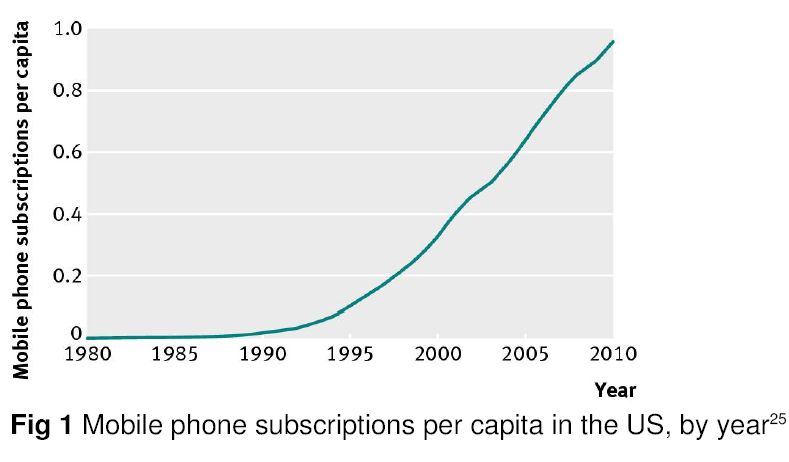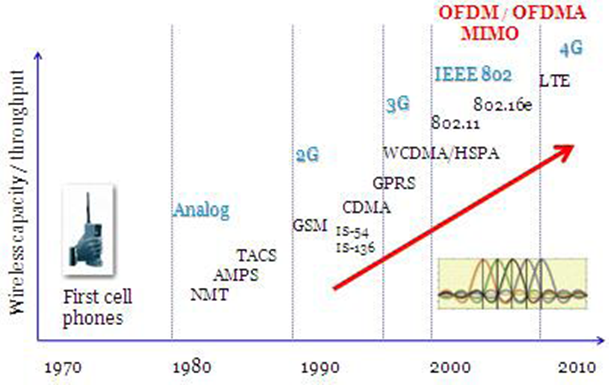 What science does really have to say on this issue which the public is not being made aware of.
RECOGNISED EFFECTS OF EVEN MINUTE LEVELS OF MICROWAVE RADIATION EXPOSURE HAVE BEEN SHOWN TO:
Increase Permeability of Blood Brain Barrier and gut
Open the blood-brain barrier to viruses and toxins
Increase excitability at neuronal synapses
Damage nerves in the scalp
Cause diverse neuropsychiatric changes, including depression
Disrupt brain activity, alter brain waves (EEG readings), alter brain chemistry and alter the brain's electrical activity during sleep
Lower levels of night time melatonin; sleep disruption and insomnia
Causes memory loss and mental confusion
Poor exploration of the local environment, motivation waning
Cause headaches and induce extreme fatigue
Altered chronobiology leading to stress response
Stresses the endocrine system, especially pancreas, thyroid, ovaries and testes
Causes single strand and double strand breaks in cellular DNA (via Oxidative stress pathways) – can lead to Cancer
Increase in tumour genesis due to fragility and altered expression of RNA and DNA
Altered hormone and sex steroid levels
Leads to both male and female infertility
Peripheral neurological effects leading to noxious and abnormal sensations or Dysesthesia
I have included as an attachment a living document that I am maintaining that captures recent scientific studies that I have been collecting over the last 4 years that provides evidence of potential biological harm including neurological damage and impairment.
A key point from the research I have linked suggests that imbalanced metabolism and excess reactive oxygen species (ROS) generation can result in a range of disorders such as Alzheimer's disease, Parkinson's disease and autism. RF exposure has been linked to creating oxidative stress via ROS production.
Microwaves and mental health appears to be an elephant in the room that nobody wants to investigate. Perhaps it is time for your organization to re-evaluate the science in this area and perhaps suggest to appropriate authorities to focus future research in this area.
Feel free to respond to the above with your views on this contentious issue.
Best Regards,
Steve Weller
B.Sc. Monash